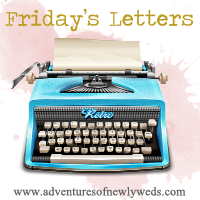 Dear McDonalds,
I am just so grateful for my 27 cent large water with lemon every morning. It makes my water intake so much easier. Except this morning when I splurged for a large coke....oops!
Dear Jillian and your damn 30 day shred,
you have absolutely kicked my ass and my legs are nearly unmoveable.
Dear Weekend,
I hear it is going to be beautiful out and I can't wait to enjoy you. It has been so long.
Dear BF's Boat,
I am glad you are back so we can enjoy said weekend on you. I need a tan in a bad way.
Dear Bloggers,
I have jacked up my blog and I promise to fix it. That is what I get for thinking I should try something new. Bad idea!
Dear Security,
thank you for your concern yesterday when an angry woman came to see me. I am glad you stood outside my office door and stared making me extremely uncomfortable but at least I was protected ;)
I hope all of you will be getting blessed with beautiful weather this weekend also. I think everyone is tired of the drought and wicked heat.
See you next Friday!