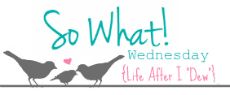 This is my very first link up! I am linking up with Shannon over at
Life After I "Dew"
for
So What! Wednesday
.
I thought it looked like an easy one to accomplish. I don't know that I would ever do a vlog link up. The thought of hearing my voice is scary!
This week I'm saying SO WHAT if...
*I had a doctors appointment, you know that doctor, and I didn't shave my legs before going
*I still let my son have his pacy when he sleeps
*I sleep with a blanky =) it comforts me
*The house is a wreck because we spent our weekend outside swimming and enjoying time with family and friends
*Eating mexican more than once a week happens
*I wore my swimsuit cover up to work, I promise it just looks like a cute sundress
What are you saying SO WHAT to this week?