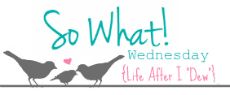 This week I'm saying SO WHAT if...
*I drive with my vanity mirror open most of the time. I honestly didn't notice this til recently. Apparently I like to see myself.....weird!
*I go to Menards (home improvement store) and buy things that never end up fitting or working like I thought. At least I try.
*I fall asleep on the couch and stay there all night. I kinda like it!
*I am taking Excedrin although it is on the recall list. Stupid is as stupid does.
*My attempt to rid of fountain soda has once again failed.
*I can't stop eating food I love. I am really trying to change my ways but it is not that easy.
*No one wants to follow me on here :( Guess I will keep posting anyway.
*I never post the end result pics from my little project. I just can't find what I want to go in that space! It is making me insane.
*I ramble....it happens.
What are you saying SO WHAT to this week?