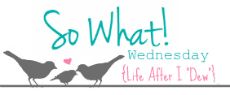 This week I'm saying SO WHAT if...
*I drove to and from O'Fallon yesterday alone busting out some seriously awesome music and yes, it was complete with dancing.
*I rearrange things in my house nonstop. I caught myself doing it again this morning. I bet my kids wonder why they can never find anything.
*I have to go to sleep with the TV on. I CANNOT fall asleep in silence!
*Reading makes me sleepy. It is like instantaneous. I start reading and dozing off all at the same time.
*I start planning lunch as soon as I get to work :) Did I mention I love food? I think you may have noticed.
*When I dress Jaxin, I dress him in the same exact colors as me. This is not intentional, I never notice til we get somewhere and then I am like geesh I have done it again. Do you do that?

I have really enjoyed doing this and I want help in finding other link ups. So if you know of any good ones, please fill me in!!!
What are you saying SO WHAT to this week?