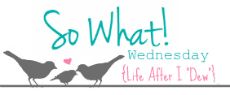 This week I'm saying SO WHAT if...
I thought I was going to die if I did spinning class but guess what I didn't and I loved it! UPDATE: My a$$ is beyond sore. I was warned.

I have been watching this show Taboo. It just keeps sucking me in.

Bank drive thrus scare me. I am so paranoid I will leave a big yellow mark down my car with those damn posts they have out there.

I have thought of calling in every day this week. No particular reason but I just didn't want to go to work.
My DirectTV in my room has been screwed up for months and yet every night I go to bed cussing it and saying I am calling tomorrow and telling them to shove this thing in their, well you know where....yet I still have never called them. Maybe today :)
My link up obsession is getting out of control. I am willing to link up with just about everyone. HA! I really need to write my own posts. I am just so opinionated that you may not like me if you read them.

Well I am sure there is so much more to list but I have to get ready for work.....boo hiss and yes I am contemplating calling in again. What is wrong with me this week?

Make sure you check out the 30 Things posts. I am really enjoying them. Ashely at Live, Laugh, Love is hosting her own version of 30 Things HERE. I will try to link up with her but I am following on another blog. So confusing :)