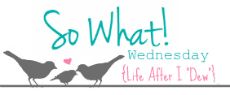 This week I'm saying SO WHAT if...
I am eating a big fat donut right now.
I laughed when my 3 year old said "Stop it asshole"...I did tell him that was not something we say afterwards.
I slept nearly all day Sunday. I mean hard! I must have needed it.
I have been a complete slacker on blogging and blog stalking. I need to catch up with everyone.
I cut 3 inches off my hair, it needed it! It feels great!
I have nothing else to SO WHAT....I will think of more next week.
I am just boring lately.
Can't wait to read all the other posts! They're surely more exciting than mine. Have a great rest of the week!