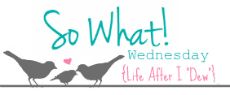 This week I am saying So What......
If I eat chips on my sandwich, not with it, on it. It is what I like and that is what I shall do.
If my new infatuation is Lipton Green Tea. I mean I always liked it but since the whole Coke thing, I have started drinking it daily.
That I have bought yet another piece of jewelry with my boys initials on it. Afterall, they do have the key to my heart!
That my son is goofy and wearing my sunglasses. He had his eyes dialated and the only thing we had in the car were my glasses. I laughed at my him after having his eyes dialated. Not in a mean way but he was cracking me up! The boy has a very dry sense of humor and no filter I swear. How is that possible???
That I got to wear jeans the other evening because it was cool and I loved it! I am a serious jean-o-holic. I dislike my legs that badly.