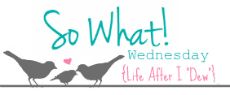 This week I am saying So What If.....
I completely jacked up my blog design. I really didn't do it but it definately all disappeared soooooo I guess I will start over.

I may just change up the design with the season and/or current holiday.

I am indecisive. It is just who I am.

I was sweating bullets during my depositions Monday. I mean seriously, it was Monday let alone having one the most hateful attorneys depose me.

I have become super lazy the past week. I have felt like ass and I am tired!

I am pale. I mean I don't know what has happened as I am usually dark as hell in the summer but this summer I am ghostly.
I have been writing a post about my Friday eve experience and I have yet to post it or finish it for that fact. It is really kinda funny but not really....

I want to meet people from the blogs I read. Is that creepy? Some I just think would be an absolute hoot to go out with. Plus I am pretty awesome myself ; )....I mean that in a very nonconceited way.
Well readers that is all I have for now because I need to work on my other Wednesday post of What I am Loving......