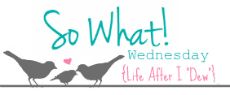 This week I am saying So What If.....
*I am super pumped that I have an inspector coming to my house today to assess my needs versus my wants. I mean I can name off 50 things I would like to change but in reality I don't have a money tree in order to do everything at once. Damn priorities!
**I was wishing for Friday on Sunday. I mean it is fair time and I MUST get there soon. Jaxin is going to have a blast! Bad news is, it may be a rainy weekend :(
***I fixed my blog design and even added a new background and such. I am just happy my owls are back. I don't know how you blog designers don't lose your mind.
****I have already purchased at least 5 Christmas gifts. I get a little giddy for Christmas in at least October, maybe before. However, I am pretty excited about newly purchased Halloween decor. Love me some TJMAXX.
*****I had such a great time Saturday night that I may or may not had the worst hangover ever. I am such a big baby when it comes to not feeling well. I didn't become mobile until 5 p.m. on Sunday, no lie. I am never drinking again.....right?!?!
Can't wait to read everyones So Whats! I need to work on my commenting on other blogs.