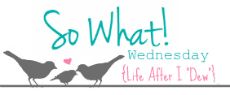 Hey everyone! It has been a crazy busy couple weeks. I am sure I have missed so much in blog land but that's okay, it gives me something to do on a rainy.
This week I am saying So What......
If I am going to dump a bunch of photos on you.
That I have yet again purchased three colors in the same shirt. What is it with me and ruffles lately? Sorry for the boob shot (trust me I don't have any left). Maybe that is why I like the ruffles...it enhances ;)
I went and registered my son @ junior high right after being numbed at the dentist. I didn't slobber on anyone ;)
That it is 4:41 a.m. and I am trying to convince myself to go to spin class at 5:30 this morning. I have no get up and go at this point. As they say "my get up and go, got up and went".
If I really want to have another garage sale already. I can't stand clutter! It makes me crazy!
Lastly, so what if we look squinty eyed, it was late and I love any pics we take. I love his shirt I got him. Pretty partial to green and gray. That damn Buckle store gets me everytime.
Well that is all I have today kids. I hope your week is going great and that your weekend is even better! See you next week.