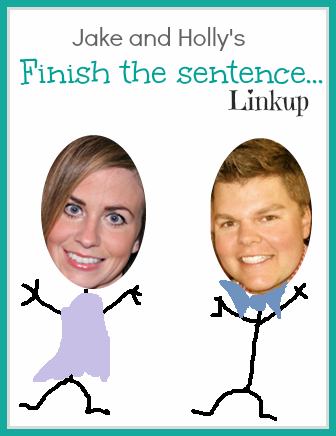 Alright so I just found this awesome link up through Shannon at L.A.I.D. and I think it is too fun to pass up.
1. People always tell me that I look like Sarah Palin, generally when I wear my glasses. I have had people purposely walk over to me in restaurants and say, "I don't know if anyone has ever told you but you look identical to Sarah Palin". Weird.....
2. In the movie based on my life, you would leave thoroughly confused. I am a hot mess.
3. Typically, I end up regretting eating or better yet gorging myself with Mexican food. But damn, it is good.
4. I always ask to leave off the pants, yep, I like them off.....okay, that was bad but you laughed didn't you?
5. Kim and Kanye really need to keep their pants on ;) Actually, I have no clue about those two people. Sorry!
6. My Parents always reminded me if you're going to be dumb, you gotta be tough. Thank heavens I am tough.
7. Every single day I remind myself that someone, somewhere has it worse then me.
8. This one time in College a girl puked in my face. True story! I am still pissed.
9. My grossest habit is I run my hands through my hair just to see how many hairs come out. Maybe not gross but weird at least.
10. My latest white lie was nonexistent, well unless you count the ones I tell my 3 year old to keep him quiet.
11. I know all the words to most of DMB songs.
12. When I grow up I want to be a sexy bitch....sorry just heard that song. I would like to be ME!
13. Sexy time is if I shave my legs. Woot! Woot!
14. I will never, ever be a deadbeat parent.
15. I think it's hilarious when my son randomly calls people Stinky Poopy Diapers. No idea.....but it is random and funny.