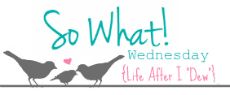 This week I'm saying SO WHAT if...
I bought these two random t shirts from Target only to go back and buy 3 more. Yes, I now have 5 of the same shirts just different colors (this green one is my FAV). They're so fabulous. Plus they are 6 bucks now! http://www.target.com/p/mossimo-supply-co-juniors-short-sleeve-pocket-vee-tee-assorted-colors/-/A-13717011#?lnk=sc_qi_detailbutton

My excitement for said shirts is a bit much....I guess I am easily amused.

I am linking up multiple times today. I actually feel guilty for not posting since Friday.

My jobby job is overwhelming me. I can do it! I still love it,don't get me wrong.

It is going to be well over 100 degrees here these next few days and we are going to a concert OUTSIDE Friday that starts at 3 p.m. This is gonna be brutal! The things you do for love =)

I have literally begged everyone I know that could possibly have connections in getting my handsome man the chance to meet Gary Allen (main artist at this Country Showdown). He loves him and I have went to ridiculous extremes and still have had no luck. GGGRRR

I am already ready to take my boys on another fun trip. Whether it is long or short. We had such a good time at Cape Splash....post to come soon complete with those wonderful disposable camera pics.

I spent 2 hours cleaning out my closet. Literally 2 hours. Possibly more. It looks much more organized. I even updated my little jewelry hanger and it looks super cute. What do you think?
*Sorry I took it with my phone and it just stinks!*
What are you saying SO WHAT to this week?