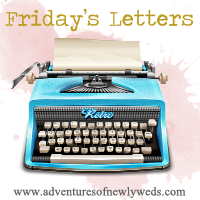 Welcome back for another Friday. Who isn't glad today is Friday?
Dear Jello,
why are you so damn messy? My child loves you but I cringe when he eats you.
Dear Willy Wonka,
it is possible even as an adult that I still want to find the golden ticket.
Dear Nappyhead,
finally one week from today you will get attention. Whew!
Dear Lost Earring,
I am so glad someone found you. I was super bummed.
Dear Skin,
you need some color you are awfully pale!
Dear Reptile Guy,
you did a great job entertaining my boys last night!
Much Love - Jess