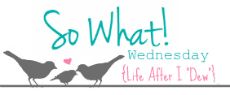 This week I'm saying SO WHAT if...
I need a nap and it is only 6:14 a.m. I have been up since 3 a.m. M has to get up at that time and well I woke up too. Boo Hiss!

On that same note, so what that I went to bed at 7:30 p.m. I was tired after work and spinning. Plus, I am old!

I may or may not have done some online shopping already this morning. I really hope what I just scored is as awesome in person as it appeared online. Fingers crossed.

My living room, as I am looking at it now, is loaded with toys. Including a big wheel, a bike and an umbrella stroller. Yes, all due to Jaxin.

DirectTV came to fix my tv to only realize that night that it is still jacked up. I swear it is never ending.
My hair looks so awful because getting into my stylist is like trying to see the Pope. Seriously, I am not kidding. I could cry it is so embarrassing right now.
My 30 Things posts have fallen to the side. I may or may not complete them. Dang it I am a slacker.




Have a great Wednesday everyone!!!! Don't forget to try the Jalapeno Cheese Fudge I posted yesterday! Your men are sure to love it!