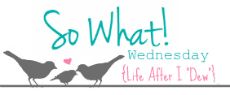 This week I'm saying SO WHAT if...
My phone camera sucks. If I wasn't so lazy, I would upload pics from my actual camera on here.




I am reloading pics for my previous post because as I stated they were awful and I really want you to see my little space.




I got excited when I learned these little gems were only 90 calories for 2 pops and 2 grams of fat. Yummy to my tummy!

I literally about fell asleep during my seminar yesterday. I felt like poo and I don't even know if I heard a word that was said. Thank heavens for handouts.

I bought wallpaper, yes, wallpaper. I don't know the last time I bought wallpaper. Have you seen the types of wallpaper these days??? Anyway, don't get too excited as it is for a small project. I won't be wallpapering a whole room. That scares me!

I have a slight obsession with photos....seriously I have at least 50 frames in my house that I can see and here is my newest wall in the foyer. The side where the table is has always been there. I can't manage to get a pic where you can see the whole space. I swear my house is actually very cute not cluttered at all.


Not Finished The Other Side

I have a slight obsession with shades of blue. I can't help it. It just makes me happy!



I am already wishing it was Friday! I need some R & R. This working out is killer ;)





I want to do that ab challenge but I am as dumb as a box of rocks and I need a step by step instruction sheet. Anyone? Help?





So What! Wednesday is so fun, can't wait to read all the other posts! Have a great rest of the week!