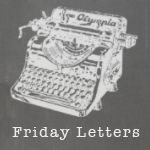 Dear Friday's Letters :
I am sorry for missing out on you the past couple times. Life has just been busy but here I am again.
Dear Babies:
I just want to say that everyone of you are winners in my book. Judging a baby contest is tough work and to have to only pick two breaks my heart. So I am sorry for those of you that didn't get a "trophy". You are all beautiful in your own way.
Dear Goals:
Glad to see I am making progress in meeting some of you. Maybe not all but some is better than none.
Dear Headache:
You are welcome to leave at any time, I have no need for you.
Dear Fall:
Where are you???? I know the first day of fall isn't until the 22nd but seriously holding on putting up my fall decor is killing me!
Dear Gyro:
Matt says he will get me one of you since I didn't get my chance at the fair. Yum!!!
Dear Money Tree:
If you could give me your exact coordinates, I would greatly appreciate it.
I hope you have had a great weekend!!!! Happy almost fall everyone!!!!