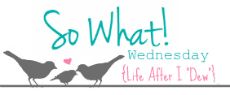 This week I am saying So What If.....
*I came to work with wet hair and dressed very "down". I thought it was going to be a rainy day. Oops.
**The changes I am having done to my home make me as excited as a kid in a candy store. I am over the moon.
***I didn't get to indulge in all that good fair food because before we got into really eating, it rained cats and dogs and we left. I did manage to eat some twisted tators, a couple bites of Matt's corndog and tried his fried key lime pie. I really want my Gyro :(
****I would rather jab my eyes out than deal with politics. I know I have said it before but geesh they wear me out. Bad thing is, I work with them. Sucks for me ;)
*****The fact that our very own Fro-Yo shop is opening in just a week here in Marion, Illinois. Mr. Koolz to be exact. I have been working with Mr. Koolz throughout this whole process and I am not going to lie, I will be glad when it is up and running!
******Tomorrow is the annual Free Fair Baby Show and yours truly will be judging those sweet babies again. I missed out on it last year but I have done it for over 5 years now. I mean just because I don't want anymore children doesn't mean I don't love them. Can't wait!!!
Can't wait to read everyones So Whats! Have a great week all!